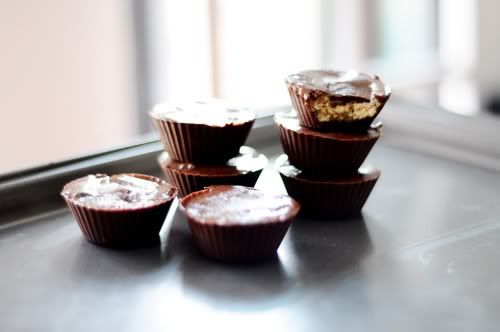 my guiltiest guiltiest guiltiest pleasure in the whole world is peanut butter oreo.
meaning, me and my bed and tv/magazine and a jar of creamy peanut butter plus a sleeve of oreos.
that's very guilty, my friend!
who taught you to befriended oreo with peanut butter?
ummmm.. Lindsay Lohan taught me.
i LOVE the parent trap and there was a scene where LiLo or the twins eating peanut butter with oreo, and since that, i've been eating my oreos with peanut butter.
and since that, im in love with peanut butter-chocolate combo.
and since that, oh since that....
yesterday, i got the making something crave.
not baking but making.
something easy but super delish.
the devil crossed my mind and told me to just forget it and do my favorite guiltiest pleasure that i mentioned above.
but hell no, i wont stop on an oreo or two, its gonna be a sleeve and i'd cry my as* off (literally).
i determined to do something, to make something.
even though i'll just ended up munching on those.
but at least i work on something.
not just laying on bed.
i've been eye-ing this homemade peanut butter cups recipe for a long time.
i have never taste reese's cups and please, i know that's a shame.
but i cant find reese's in jakarta and everytime i go abroad, i prefer to skip on groceries candies.
although i always wanted to taste them.
so i browsed my bookmarked recipes file on my blackberry.
got my lazy self up and start preparing to do them.
in just one hour i could sink my teeth on them.
so its not much a work.
since i only used a very few dishes and made a very little kitchen disaster.
so yes, its hardly a hardwork.
but MAN! the end result is just FANTASTIC!
the added of oreo in the peanut butter filling gives more of JOY.
peanut butter chocolate joy.
as i usual, i like my peanut butter chocolate to be heavy on the salt.
so i also added like 1/4 teaspoon of fine sea salt.
and holy moly not cannoli, its just PERFECT!
the crucnh of crushed oreos.
the tartness of peanut butter.
the salty hit of sea salt.
the bitter sweet of lindt dark chocolate.
OMG, i was in heaven.
well, i am in heaven.... since i still have like 12 of them in my fridge.
oh life.
and here's the step by step pictures.
because believe me, they are just crazy easy.
and crazy delish!
first, here's a
link to the recipe i used, from have cake will travel
*you start with melted chocolate*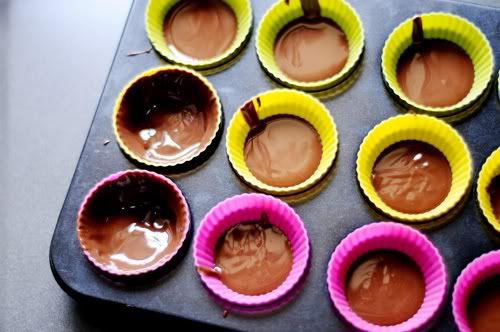 *place a heaping teaspoon of melted chocolate in each mini cupcake liner and spread it all over the place with the back of a spoon. repeat with all 12 liners, refrigerate, i used my silicone liners and they make it so much easier, a whole lot easier*
and for the filling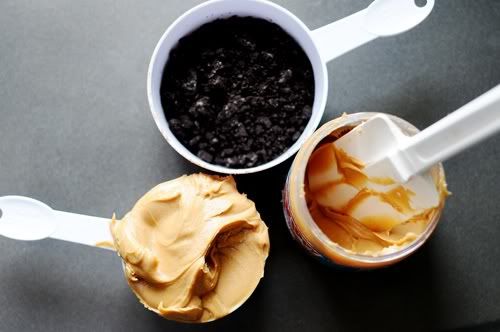 *these are the most basic ingredients, peanut butter and crushed oreo*
*stir together peanut butter, vanilla, salt, oreo and sugar. it should form a sort of paste, make sure all gets incorporated really well. the chocolate should be hard by now, so divide peanut butter paste into all 12 liners, pressing down gently to make sure the paste goes everywhere*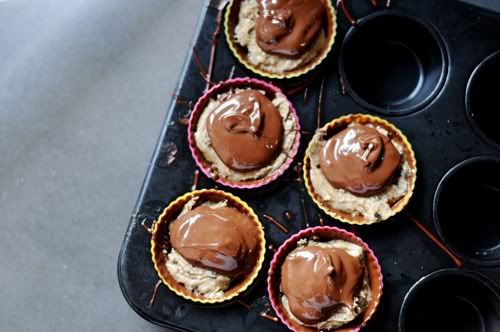 *top with heaping teaspoon of chocolate*
*spreading carefully so that none of the PB paste can be seen. chill in fridge for at least 15 minute or until completely harden*
and now please enjoy!