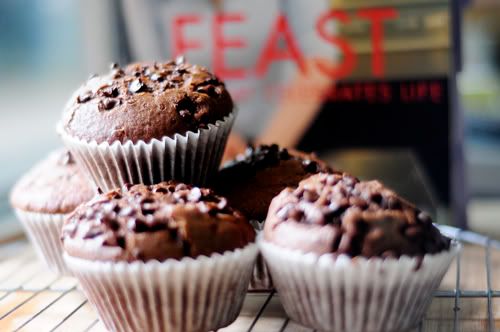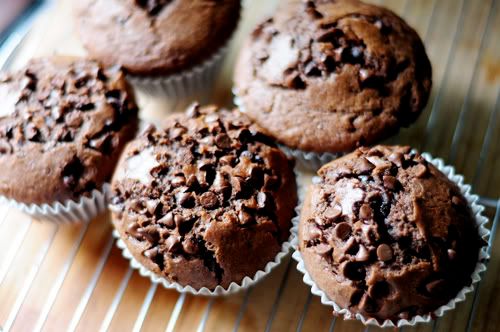 no, i didnt bake this in my basement kitchen..
i baked these.... like a week ago and somehow forgot to post it.
but tell you, these are hit in my family.. very very chocolate!
im a big fan of muffin top and these had the kind of muffin top i like.
crunchy with melting chocolate chip.
serve warm! the best! with cold milk!
HIT!
nigella lawson's chocolate chip muffins
INGREDIENTS
250g plain flour
2 teaspoons baking powder
Half-teaspoon bicarbonate soda
2 tablespoons best quality cocoa
175g caster sugar
150g chocolate chips (plus more for sprinkling later)
250ml milk
90ml vegetable oil
1 large egg
1 teaspoon real vanilla extract
1.Preheat the oven to 200C and fill a 12-bun muffin tray with paper cases.
2.Weigh out the dry ingredients into a large bowl. Pour all the liquid ingredients into a measuring jug.
3.Mix both together – it will be a runny batter - then spoon into waiting muffin cases.
4.Sprinkle more chocolate chips on top then cook for 20 minutes or until the muffins are risen and springy.