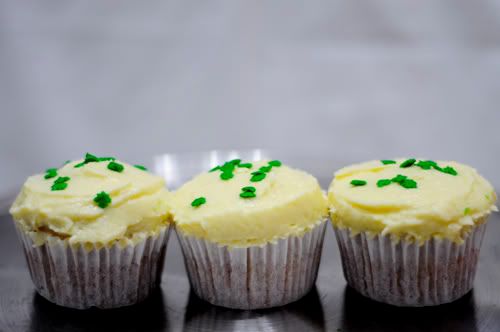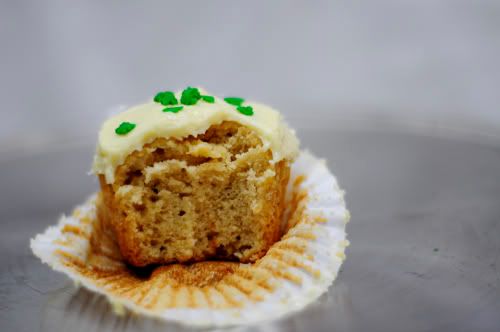 whoozsh! new semester have started.
whoozsh! i've bake something in the basement kitchen.
and its irish cream cupcakes!
frosted with cream cheese frosting!
sprinkled with green sprinkles.
so its like..errr.. happy st. Patrick day?
kidding me?!
i dont even understand it..seriously.
anyway..
talking about the cupcakes..
they were so heavy, dense and even more in the muffin side than cake side.
yesss, the texture was so heavy.
the smell..was so irish cream!
paired with cream cheese frosting is the best.
thank god i left out the splash of irish cream in the cream cheese frosting, otherwise the cupcakes would be so much spiked cupcakes.
not a good thing, noooo..
overall.. these are good-heavy-dense-alcoholic cupcakes.
i ate one, good thing.
the recipe came from crazy about cupcakes book.
and the book has kahlua cupcakes recipe too, which is next in my list :p
and oh, i should stop taking pictures late at night, only depending on small aperture and weird-too bright lighting in my parents's bedroom.
yess! STOP!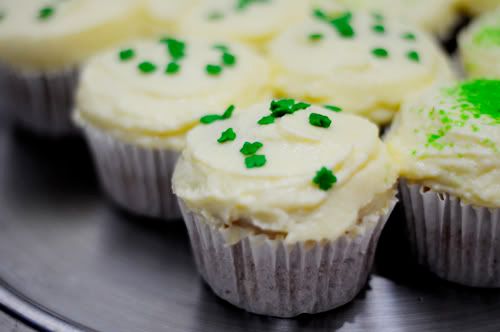 irish cream cupcakes
ingredients
2/3 cup unsalted butter, at room temp of course
2 cups granulated sugar
2 large eggs, room temp
2 teaspoons vanilla extract
1 1/3 cups Bailey's (or your favorite generic Irish cream)
2/3 milk
4 cups all-purpose flour
2 teaspoons baking powder
2 teaspoons salt
1. Preheat the oven to 325 degrees. Insert 24 liners into a cupcake pan.
2. Pour yourself a glass of Bailey's over ice to enjoy while baking.
3. In large bowl, cream together butter and sugar until fluffy, about 2-3 minutes with a stand mixer. Add eggs and vanilla and beat well.
4. In a separate bowl, combine the liqueur, water and instant coffee. Mix well.
5. In third bowl, thoroughly combine flour, baking powder, and salt.
6. Add the flour mixture to the creamed mixture, alternating with the liqueur mixture. Beat on medium speed for approximately 2 minutes.
7. Fill cupcake liners 3/4 full and bake for about 20 minutes or until tops spring back when lightly touched.
cream cheese frosting
Ingredients
8 ounces cream cheese, room temperature
8 tablespoons (1 stick) unsalted butter, cut into pieces, room temperature
1 cup confectioners' sugar
1 teaspoon pure vanilla extract
1. Place cream cheese in a medium mixing bowl. Using a rubber spatula, soften cream cheese. Gradually add butter, and continue beating until smooth and well blended. Sift in confectioners' sugar, and continue beating until smooth. Add vanilla, and stir to combine.