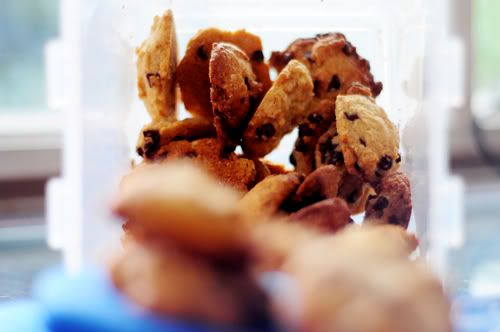 TeeHee! told you im craving crunchy chocolate chip cookies.
well, i made them this morning, this early morning and guess what? i 80% literally created the recipe.
and it worked! :D
sooooo crunch just how i want them, although i think i still have problem with the baking time because somehow the cookies are slightly underbaked while the look are just perfectly golden brown.
the ones got overbaked slash too brown surprisingly dont have the slightly underbaked problem.
so i think, the baking time isnt right yet.
anyway.. i'll definitely make them again!
and oh yeah, talking about the recipe.. i used some old-skul cookies recipe and tweaked it here and there until this crossed my mind "its not even the basic recipe anymore, this is my recipe! hell!"
and oh, fancy my lego people mit? its really cute isnt it?
wanna know a secret? i never use it for the actual baking, too cute to handle hot pans :p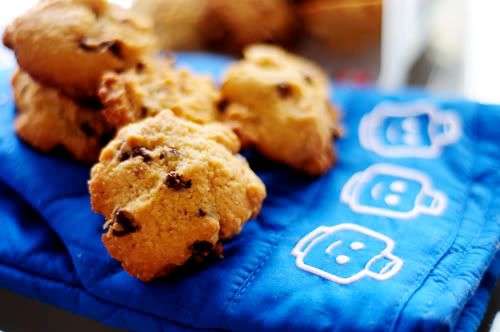 crunchy oatmeal almond chocolate chip cookies
ingredients
150g unsalted butter
50g confectioners sugar (i think i'll use granulated sugar next time)
40g brown sugar
1 large egg
1 egg yolk (you can omit this, really)
1 tsp vanilla extract
210 cookies flour
25g powdered milk
1/4 tsp sea salt
40g ground almond
100g quick oats, process to fine ground using food processor
chocolate chips depend on your taste (i used about 100g)
directions
*preheat the oven to 150C, line cookie pan with parchment paper, mix together flour, powdered milk, ground almond and salt
*using mixer on high speed cream the butter and sugars until pale and fluffy, mix in egg and yolk, mix thoroughly. add vanilla
*mix in the dry ingredients using wooden spoon (i used spoonula) and do not overmix. add in the ground oats and chocolate chips
*form balls of the dough using two teaspoons and bake for 30 minutes or until golden brown.