ugh! krispies treats are rare in indonesia so every time (every rare time) i saw them, i grabbed like 10 or so of them, stacked them and love them for few days until they're gone.. gone from my snack cupboard, gone from the supermarket where i got them.
i made this homemade version when i was craving for one and cannot find them anywhere.
too bad, i dont like it.. too sweet :(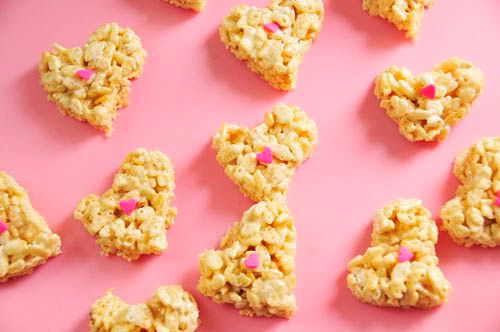 Rice Krispies Marshmallow Treats
1 (7 oz.) jar Marshmallow Creme
1/4 c. butter
5 to 6 c. Rice Krispies
Melt margarine in 3-quart saucepan. Add Marshmallow Creme and cook over low heat, stirring constantly. Remove from heat. Add Rice Krispies; stir until well coated. Press warm
mixture into buttered 13 x 9 x 2-inch pan. Cut into squares when cool. or use your cookie cutters, like what i did!