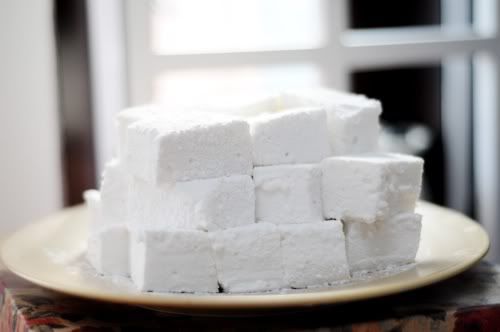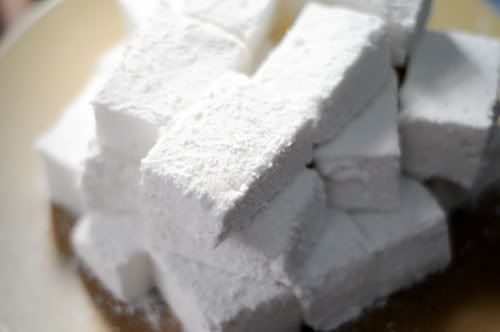 holy mother of..!! i made my own marshmallow!
homemade marshmallow!
gah! no one i know would ever thought about making their own marshmallow.
NO ONE!
marshmallow is always a sweet treat you get at supermarket.
correct me.. not just any supermarket, marshmallow is kinda rare in indonesia.
oh, i talk too much about the downside of indonesia.
anyway, im watching FIFA World Cup 2010 now while typing these.
its #NED vs #JPN now!
quick trivia, nederland and japan used to fought over indonesia.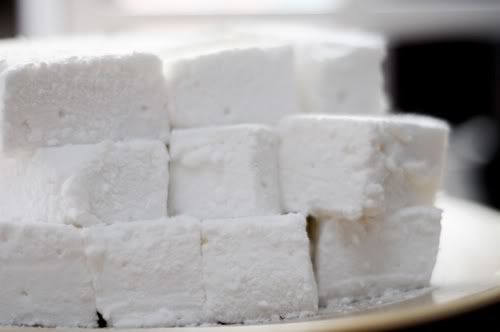 onto the marshmallow.
when i first got my new favorite cookbook a.k.a Baked new frontiers in baking.
the first recipe that caught my eyes is this marshmallow recipe.
this recipe using sheets gelatin, unlike any other marshmallow recipe i've seen before.
it must be a fate that i've own sheets gelatin for while in my cupboard with the exact number of sheets this recipe needs.
okay, maybe not.. i only owned 6 sheets and the recipe calls for 12 sheets.
just okay, for halving the recipe.
this marshmallow has different texture with the usual marshmallow i get from store.
this is really soft and fluffy and springy, just like how the book described.
they need loads of powdered sugar for coating otherwise they'll get really sticky.
loads of powdered sugar will resulting in a way too sweet marshmallow.
so next time maybe i'll sub half the sugar with cornstarch.
since i dont really snacking on 'plain' marshmallow (way too sweet!) im gonna use this for marshmallow cupcakes or krispies treats.
or hot chocolate with homemade marshmallow, now that would be goooood.
oh wait, i've done that..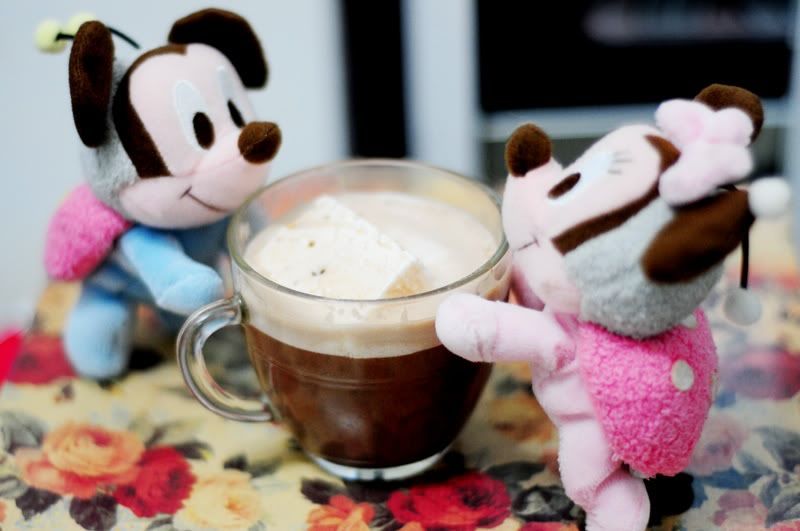 now the recipe
Marshmallow from Baked: new frontiers in baking
Makes 2-3 dozen marshmallows (depending on how you cut them)
6 sheets gelatin
1 cup sugar
1/2 cup light corn syrup
1/4 cup water
1 teaspoon pure vanilla extract
Pinch of salt
1/3 cup confectioners' sugar, sifted, plus more for dusting
Grease an 8x8-inch pan with shortening, using a paper towel to rub it lightly and evenly onto the bottom, sides and edges of the pan. Set aside.
Put the gelatin sheets into a medium microwave-safe bowl and fill it with very cold water to cover by several inches, adding a few ice cubes to keep it cold. While they soak for about 10 minutes, move on to the rest of the recipe.
Place the sugar, 1/4 cup corn syrup and 1/4 cup water in a medium saucepan and stir gently. Clip a candy thermometer onto the pan, and place it over medium-high heat. Bring it to a boil, checking it occasionally--you are looking for it to eventually hit a temperature of 235-240 degrees (soft ball stage).
Meanwhile, pour the remaining 1/4 cup corn syrup into the bowl of an electric mixer fitted with the whisk attachment. By this point, the gelatin sheets should be very soft--drain them well and give them a quick wringing out, and place them back in the microwave-safe bowl. Microwave on high until the gelatin is completely melted, about 30 seconds. Turn the mixer on low, and very slowly pour the melted gelatin into the corn syrup. Keep the mixer running while you check the sugar syrup.
Once the syrup reaches 235-240 degrees, pull it from the heat. Carefully transfer the syrup to a large, heatproof measuring cup or a similar vessel with a spout for easy pouring. Turn the mixer up to medium speed and slowly pour the sugar syrup into the gelatin mixture. When all the syrup has been added, crank the speed up to medium-high and let it go for about 8 minutes--the candy will turn white and fluffy. Add the vanilla and salt and increase the speed to its highest setting for 1 more minute.
Pour the marshmallow into the prepared pan and smooth the top. Sift confectioners' sugar evenly and generously over the top. Let sit for about 6 hours.
Use a knife to loosen the marshmallow from the edges of the pan and invert it onto a confectioners' sugar-dusted work surface. Dust the marshmallow slab with more confectioner's sugar and cut into whatever size pieces you wish (a pizza cutter works great here). Dip the sticky edges of the marshmallows in more confectioners' sugar, patting off the excess. Store in an airtight container for up to 1 week.