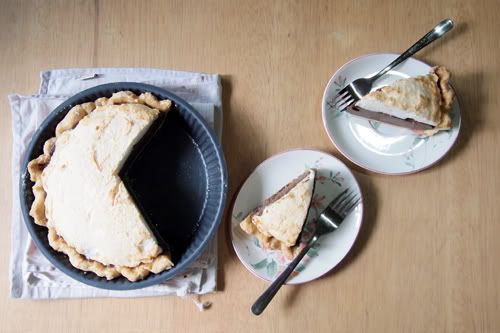 finally! a recipe! chocolate meringue pie, a recipe worthed months of waiting.
recently im in a retro-with-a-dash-of-southern-life living obsess and what else should i make other than pies to live up to that obsession?
this is a crowd pleaser dessert, serve with whipped cream instead if you are not a meringue-loving person like me.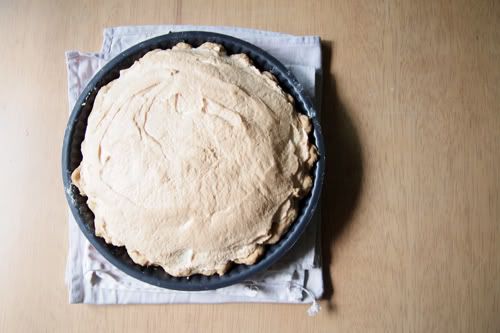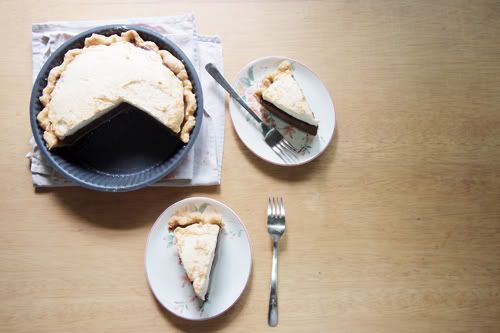 chocolate meringue pie
1 9-inch pre baked pie crust
chocolate filling

recipe adapted from baked cookbook
1/2 cup sugar
3 tablespoons chocolate malt Ovaltine
1 teaspoon salt
1/4 cup cornstarch
5 large egg yolks
2 cups whole milk
1/2 cup heavy cream
5 ounces dark chocolate (60 to 70 percent cacao), coarsely chopped
2 ounces milk chocolate, coarsely chopped
2 teaspoons whiskey (I used bailey's irish cream)
1 teaspoon pure vanilla extract
In a medium saucepan, whisk together sugar, Ovaltine, salt, and cornstarch. Add egg yolks and whisk until combined; mixture will look like a thick paste. Slowly pour in milk and cream, whisking constantly. Bring to a boil over medium heat, whisking constantly; let boil for 30 seconds and immediately remove from heat.
Add chocolate, whiskey, and vanilla; whisk until well combined and mixture has cooled slightly. Let stand, at room temperature, for 15 minutes. If a thin skin forms on the filling while cooling, whisk until skin is gone. pour filling into the crust. Refrigerate for 4 hours before serving.
meringue
2 large egg whites
4 tablespoon white sugar
in a large mixing bowl beat egg whites and salt using stand mixer fitted with whisk attachment until fluffy, add sugar gradually and continue beating until stiff peaks form.
assembling.
preheat oven to 400 F.
take out the refrigerated chocolate pie while making the meringue, spread filling on top of filling right up to edge of crust. bake for 15 minutes or until meringue is lightly brown. chill the pie for at least 4 hours before serving, best served cold.