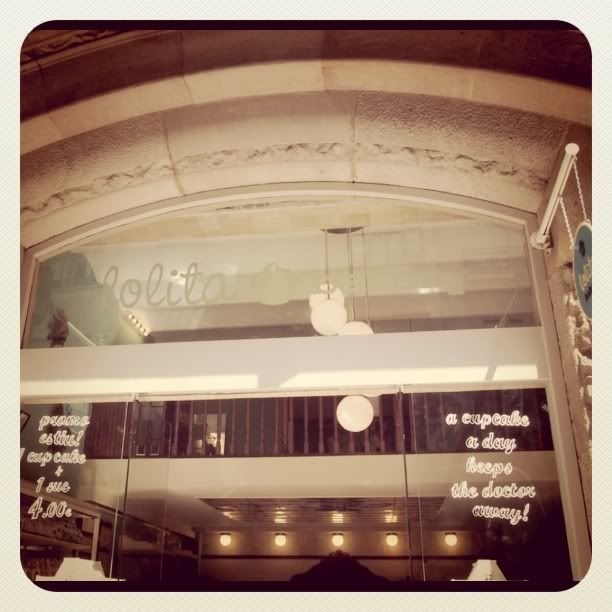 so i was in Barcelona last summer, nothing big, just Barcelona and few other cities in spain.
and oh, paris, milan, lisbon, frankfurt, amsterdam.
okay, IT WAS BIG! i spent a month travel through europe.
and it was AMAZINK!
now, being a sweet tooth and glutton slave i am, of course tasting, gobbling and eating my way through the whole journey was in my agenda.
its a shame really if im being honest here and tell you all that my favorite sweets were boxed or bagged artificial laden snack from rest area mini-markets.
but i know, you want to read and see pictures of something fancy.
i like everything fancy too, you know.
its okay.
so here i am, with fancy bakery review.
Lolita bakery is located in Barcelona, its near the famous Gaudi's Casa Mila.
never thought that i'd come across a bakery in my way to Casa Mila, but there it was, a cute bakery (with a cute cupcake man behind the counter.)
i stopped immediately because it was the cutest bakery i have ever seen. i swear.
it was very hot in Barcelona, the temperature might reached 35 degree Celsius and it was just slightly cooler inside the bakery.
but the cupcakes and their frosting were survive.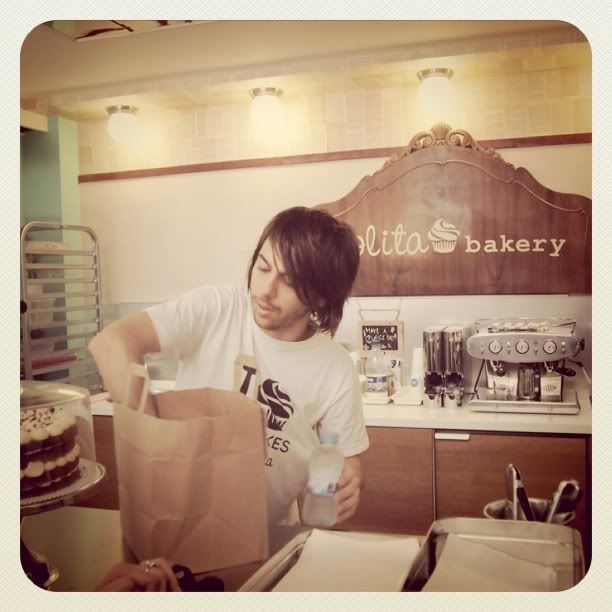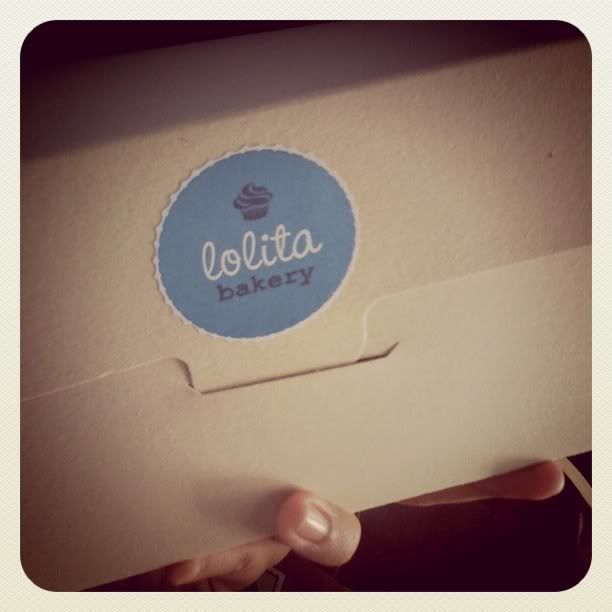 they had various flavors of cupcakes.
from red velvet, carrot cake, chocolate chip, chocolate and many more.
but i went with the red velvet, blueberry chocolate and carrot cake.
other than cupcakes, they also had muffins, brownies, bars and layer cake.
i had the apple crumble bars.
the cream cheese frostings on top of each cupcake i had seat perfectly under the mean summer heat.
fyi here, i brought along the box of cupcakes to Casa Mila to take pictures and literally admiring the architecture and maybe teared up a bit to see Gaudi's work.
so yeah, the frosting were a surviver.
maybe they're using stabilizer? could be.
anyway, all the cupcakes were good, just good.
the cake weren't moist and the taste were just, i dont know, standard?
the frosting were just good, no, it was better than the cake actually, i liked it.
although not great. but really, i liked it.
but the star was the apple crumble bars, which i forgot to take picture of.
but please trust me. it was greeeeeeaaaattt1!
the crumble and the crust were very buttery and married perfectly with the sour-ish, cinnamon-y and sweet apple filling.
i finished it in just two minutes and it was not a small bar.
overall, the Lolita bakery is worthy a visit if you're in barcelona.
its cute, its good and its just next to Casa Mila.
yes, its very very very touristy.